Positional Competitiveness-Multi-Collaboration Criteria
"Lateral midfield competition is at an all-time high quick to bounce back"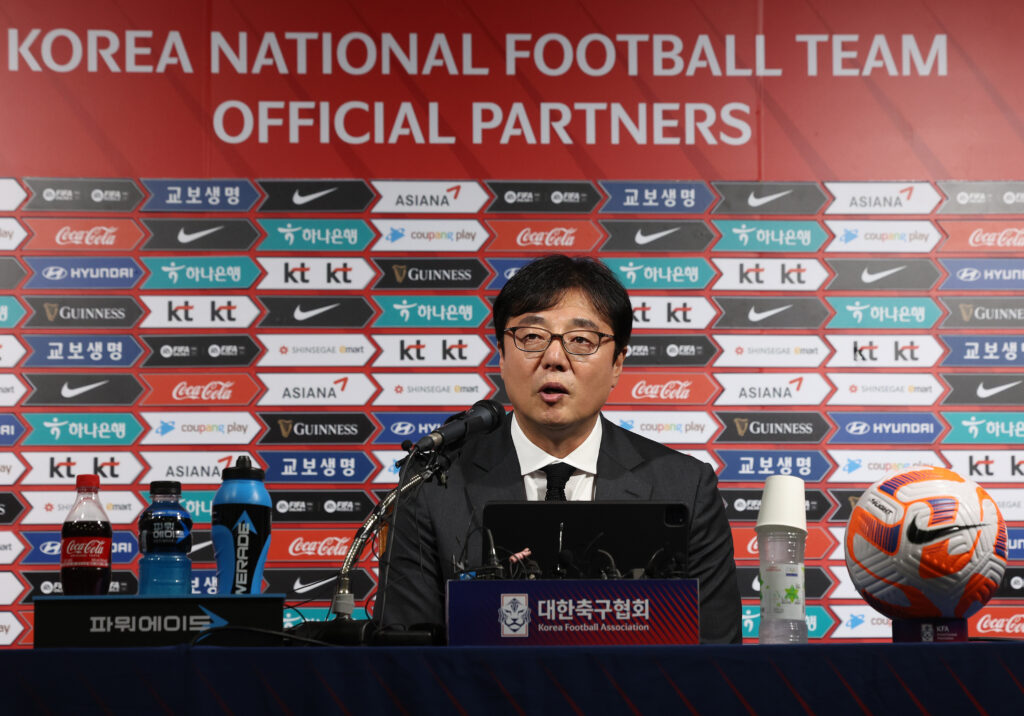 After announcing the final roster for the men's national soccer team that will compete at the Hangzhou Asian Games, which kick off in September, Hwang Sun-hong, the head coach of South Korea's men's national soccer team, revealed that "Golden Boy" Lee Kang-in, who recently moved to Paris Saint-Germain (PSG) in France's Ligue 1, is determined to play.
On Thursday afternoon, Hwang held a press conference at the Jongno-gu Football Hall in Seoul to announce the 22-man roster for the 2022 Hangzhou Asian Games.
Lee Kang-in was named to the roster, with Baek Seung-ho, Park Jin-seop (Jeonbuk) and Seol Young-woo (Ulsan) as wild cards.
"It was a difficult task that I'm still scratching my head over," said coach Hwang Sun-hong. "There was a lot of competition for one or two positions until the end, so I struggled with it," he said.
"We selected players based on three criteria. The first is the competitiveness of the position in the team and in the K League, and the second is multi-skills. We only have 19 field players. The weather is hot and the schedule is tight. Multi-skills are important. Lastly, I looked at the ability to work together as a team," he explained.
Lee recently left Mallorca (Spain) to join PSG.
"The other athletes have no problem qualifying for the Asian Games," Hwang said. But Lee Kang-in's status is not definite. He needs to coordinate with his club," he said, adding, "He just joined the team. We have to wait a bit."
He added, "We are in constant communication with the player. Lee Kang-in's commitment to the Asian Games is strong. Previously, his transfer had been finalized with Mallorca. However, with his recent sudden transfer to PSG, we are in the process of coordinating," he said, adding, "We are positive. I expect it to be well coordinated."
On how to utilize Lee Kang-in, he said, "We have a plan A and plan B. We have to communicate and coordinate. We need to communicate and coordinate with the player. He's a good player and he has the ability, but soccer is a team sport and it's important that 11 or even 22 people are looking in the same direction. Lee Kang-in is a smart player and he is fully aware of that."
Lee will be joined by Jung Woo-young (Stuttgart), Hong Hyun-seok (Ghent) and Park Kyu-hyun (Dynamo Dresden).
As the Asian Games are not organized by the Federation Internationale de Football Association (FIFA), teams are not obligated to send their players.
"We plan to call up the full squad on Sept. 4," said Hwang, "and there's no problem with recalling players from Sept. 4-12, which is the A-match period. However, the problem is the six days afterward. If their clubs don't allow it, they have to leave and come back. We are trying to solve it in various ways."
The wild cards, which had been discussed with the likes of Lee In-gyu (Ulsan) at the forefront, were filled with midfielders and defenders.
Hwang said, "The three wild cards are all proven in the K League. Baek Seung-ho and Park Jin-seop are expected to play in the same team and have synergy. Seol Young-woo can play both left and right as a flanker," he said.
"We waited until the last minute for a striker. We even coordinated a two-hour delay in submitting the roster, but it didn't work out. "We contacted all strikers, including those playing overseas, but it was difficult because overseas teams are not obligated to play. For the domestic side, we coordinated with In Ji-kyu until the end."
Hwang was also excited about two strikers, Park Jae-yong (Anyang) and Ahn Jae-joon (Bucheon).
He added: "I don't think the forwards are behind now. If we prepare for the rest of the season, we can be competitive. If we don't score goals, it's the coach's responsibility," he said, adding, "I want us to go through the tournament with more confidence in success than fear of failure."
"Ahn Jae-jun is a striker who can also play on the flanks. His strength is his aggressive movement, which is what we want. He can also score goals." "Park Jae-yong is a good link-up player. Despite his height, he is calm in the box. His delivery is also a strong point."
Despite not being able to bring in a striker as a wild card, Hwang Sun-hong's second line is one of the best ever.
In addition to Lee Kang-in, it features a number of national team players, including Uhm Won-sang (Ulsan), Song Min-gyu (Jeonbuk), and Ko Young-joon (Pohang).
"The strength of our team is the second line," says Hwang, "and the competition for the flanking midfielders was huge. I was worried about it, and I feel sorry for the players who were eliminated. We are thinking about how to utilize the second line effectively."
Uhm Won-sang, who suffered a serious ankle injury against China last month, is also making a quick recovery.
"I spoke with coach Hong Myung-bo," said Hwang. She is recovering quickly and is expected to play in early August. I told him not to push himself too hard," he said, predicting that he will be available by the second week of August at the latest.
"I believe in the players," said Hwang, who will be looking to win a third consecutive Asian Games men's soccer title. The responsibility is on the coach. I will make the players play with excitement on the field," he said.
"We are more important than the opponent. 토토사이트 I will be united with the players and do my best to achieve the goals we set. I look forward to your support and encouragement."