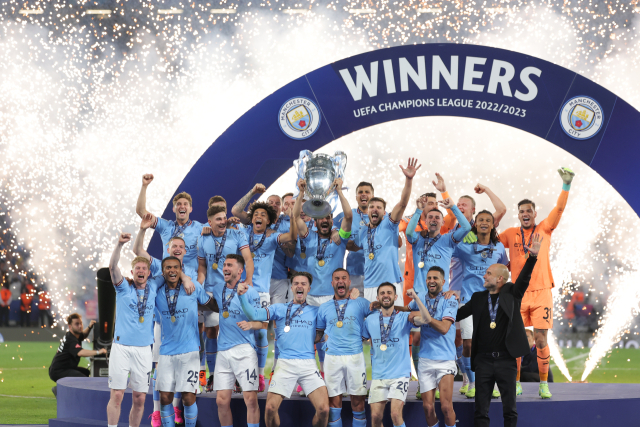 Guardiola and the players cheer as Manchester City captain Guendoan raises the "Big Year" high with both hands.

Spectacular fireworks embroider the Istanbul night sky, and Manchester City fans who share historical moments also sing along with "We Are the Champions."

The winning goal to confirm the first Champions League victory in the club's history came in the 23rd minute of the second half.

On the right side of the penalty box, Silva's cutback pass hit the defense and flowed back, and Rodri rushed in and finished with a strong shot.

Manchester City defended the goal well despite the bad news of Kevin de Bruyne collapsing due to injury in the first half and beat Inter Milan 1-0.

Manchester City, which has already won the league and FA Cup titles, has achieved a great deal called "treble" with this victory.

It is the second EPL team after its local rival Manchester United, who won the treble under Ferguson.

Guardiola made a mark in football history by achieving another treble following his days leading FC Barcelona.

For the first time on the European stage, he has won the league, cup tournament, and Champions League title twice, becoming the best active coach in name and reality.

<Pep Guardiola / Manager of Manchester City>

"I feel very satisfied and special by winning the Champions League and giving Manchester City a treble. To be considered the best team in Europe, you must win the Champions League."

Although he did not score in the final, "Monster striker" Holan, who came to Manchester City this season, became the top scorer with 12 goals on the Champions stage following the EPL.