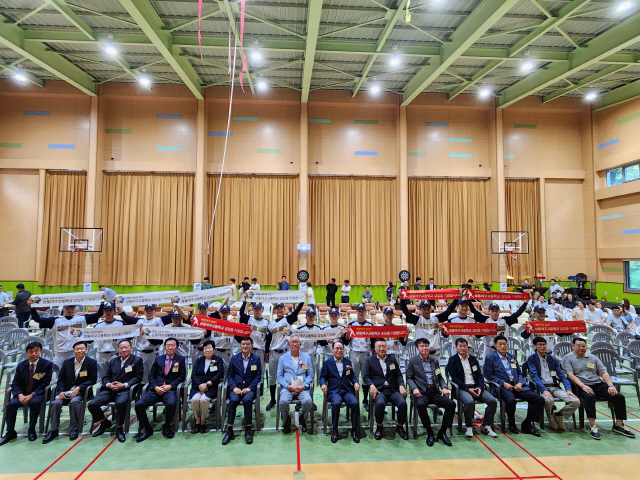 Sangdong High School in Yeongwol has launched its baseball team and declared itself a baseball high school, marking the beginning of a local revival.
The target date for the establishment of Korea's first public Sangdong Baseball High School (special purpose high school) is March 2025, and the school has recently hired a pitching coach and plans to hire a trainer coach in October along with the construction of a dormitory center.
On the 9th, Yeongwol Sangdong High School held the 'Founding Ceremony of Yeongwol Sangdong High School Baseball Club and Proclamation of Establishment of Yeongwol Sangdong Baseball High School' at the school's gymnasium.
The proclamation ceremony was attended by Choi Myung-seo, head of Yeongwol County, Shim Jae-seop, chairman of the Yeongwol County Council, Jung Min-seung, superintendent of the Yeongwol County Education Support Agency, Yang Hee-gu, chairman of the Gangwon Special Self-Governing Province Athletic Association, Kim Sung-soo, chairman of the Yeongwol County Sports Association, Lee Un-sik, chairman of the Yeongwol Sangdong Baseball High School Establishment Promotion Committee, and Yoon Su-jong, principal of Sangdong High School, Kyung Min-hyun, vice president of the Gangwon Min Ilbo, Kim Eung-ryong, honorary president of the Korea Baseball Softball Association, Yang Seung-ho, head coach of the Sangdong High School baseball team, Kim Gil-soo, president of the Gangwon Special Self-Governing Province Baseball and Softball Association, Jung Dae-yi, chief of the Yeongwol Police Department, Ahn Tae-seok, chairman of the Yeongwol Chiefs' Council, and many other players, parents, alumni, and local residents.
The first head coach of the baseball team at Sangdong High School was Baek Jae-ho, and the head coach was Yang Seung-ho. Through self-selection and open recruitment, 14 first-year students were admitted as the first members of the baseball team, and Kim Min-seo became the team captain. In his opening remarks, Lee Unsik, chairman of the promotion committee, said, "We have come to this day after many twists and turns, but there are still many difficulties before we can convert the school into a public baseball school, and we are well aware that it is another beginning." He expressed his determination to make Sangdong Baseball High School, which is not only unique in Korea but also in the world, a baseball mecca by starting a small fire."
In his welcome speech, military chief Choi Myung-seo said, "Thanks to the people of Sangdong, the program has progressed so quickly and well." He added, "The establishment of the Sangdong High School baseball team has become an important turning point that will create a new history for Sangdong."
Chairman Shim Jae-seop said in his congratulatory remarks, "Yeongwol has a good facility called Deokpo Baseball Stadium," and said, "I am confident that we will overcome the crisis of regional disappearance by expanding baseball and sports." "We welcome the 14 players who made a difficult decision to come to Yeongwol because they wanted to play baseball all over the country," said Superintendent Jung Min-seung. "I think our players will become the energy of the region."
"The establishment of Sangdong High School's baseball team will be a great example of regional sports development," said Yang Hee-koo, chairman of the provincial sports governing body.
Vice President Kyung Min-hyun said, "The conversion of a national baseball school for the first time in Korea is a matter of regional survival," and said, "We will take the lead in establishing the Sangdong Baseball School and building consensus." Yang Seung-ho said, "I am pleased to welcome the establishment of the baseball team and the proclamation of the establishment of the baseball school," and said, "We will do our best to establish the first public baseball school in Korea in Sangdong in March 2025."
On this day, the Provincial Office of Education delivered a certificate of support for the establishment of the baseball team to Sangdong High School, along with 15 million won in support, and the Yeongwol Education Support Agency also delivered 10 million won in support. In addition, six professional baseball players, including Lee Jung-hoo (Kiwoom Heroes), sent a video congratulating Sangdong High School on the establishment of the baseball team. 토토사이트